CARING FOR YOUR BRACES
Maintaining great oral hygiene through brushing for two minutes a day twice a day is key to preventing cavities and scars from forming around your braces. Flossing with braces can be tricky so we will take time to explain how this can be done the first day you get your braces put on. Careful patient education combined with continuing professional cleanings with your dentist ensures you will have dazzling healthy teeth when the braces are removed and your new smile is unveiled!
Emergency Care
Luckily, there are very few "true" orthodontic emergencies with braces. However, sometimes our patients might encounter a loose bracket, a poking wire or another irritation related to an appliance.
Step 1 – Try to remedy the problem at home
Most orthodontic problems can be fixed at home using various solutions. However, if you cannot resolve it on your own, call us as soon as possible so we can schedule a repair appointment!
Step 2 – Call us to schedule a repair appointment
To keep on schedule throughout our day, please call us ahead of time to schedule a repair appointment. If you call during non-business hours, leave a message and we will return your call as soon as we re-open to schedule a repair appointment. If immediate care is needed, we will be available through an emergency contact number on our voicemail
At Caudill & McNeight Orthodontics, we place heavy emphasis on personalized attention to each patient.
If you encounter an emergency or minor discomfort with your braces, be sure to follow the steps above.
Reach out to us as soon as possible to prevent the damage from progressing any further and intervening with the effectiveness of your treatment.
Checkout these helpful instructional videos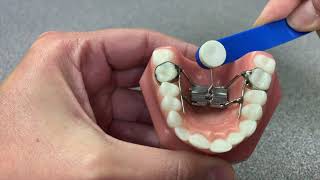 How to Turn Your Expander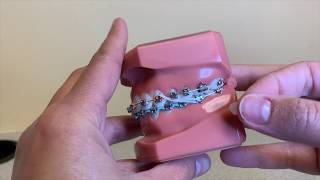 0:00 / 1:38 How To Use Dental Wax for Your Brackets
Eat softer foods(pasta, mashed potatoes, soups, smoothies)
Take Advil or Tylenol for soreness, Initial soreness will subside after 2-7 days
TOP THREE FOODS TO AVOID!
1- Hard Foods
2- Sticky Foods
3- Sugary Food and Drinks
We want you to AVOID these foods because they cause TROUBLE!
Break braces attached to your teeth
Break appliances
Pulls bands off
Sugar attacks your teeth and causes cavities
NEVER, EVER EAT
Ice
Hard nuts
Hard pretzels
Hard sticky candy
Sticky sugary gum
No sucking on lemons or limes. Can cause enamel damage from the acid
Popcorn – hulls can get stuck in braces and gums, causing infections
BE VERY CAREFUL EATING & DRINKING
Chips that end in"-os" (Doritos, Fritos)
Take meat off bone (chicken wings, ribs)
Corn on the cob, cut off the cob
Pizza crust/bagels
Whole fruits & vegetables (apples, carrots). cut into small pieces
Sugar-free, non sticky gum( Orbit, Trident, Extra, etc)
Soda and sugary drinks